Ice, Sleet, Snow to Severe, Tornadoes, and Winds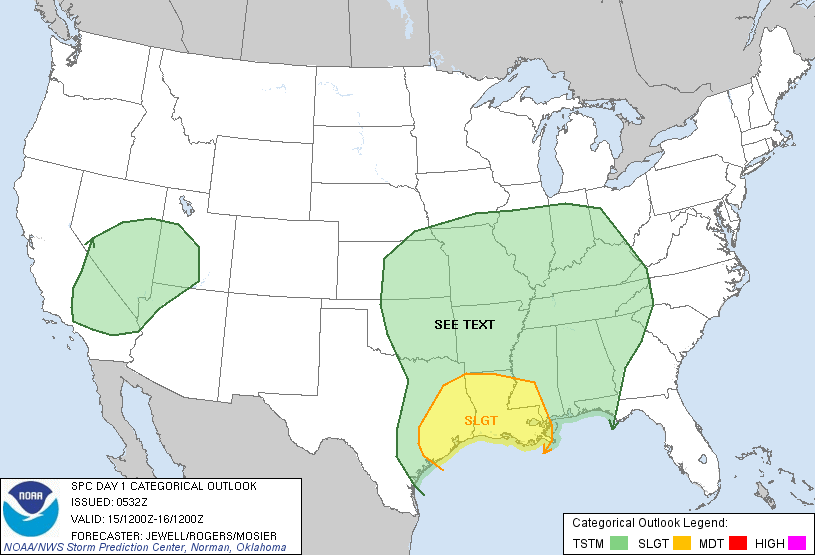 Severe Risk Sunday Afternoon through Monday Morning Includes Mississippi and Western Ohio Valley; Courtesy of The Storm Prediction Center
Crazy comes to mind when describing the weather in the Ohio Valley this weekend. Last night a moderate to significant ice storm gripped the northern half of the Ohio Valley. In general .15″ to as much as .30″ of freezing rain fell to kick off the storm, then came a period of heavy sleet that accumulated up to a half an inch in areas, finishing off with a period of snow. Farther north Chicago, Fort Wayne, Toledo, and Cleveland and points in between dealt with a modest snow storm. As always a few places exceeded expectations where the best snow bands set up, and a few places got a little less. If that was not enough strong thunderstorms hammered the lower Ohio Valley with strong winds, hail, and heavy rain. So now the area can relax and clean up after the ice, right? Unfortunately what comes Sunday night might be far more worse than what happened Friday night into the early morning hours of Saturday.
As for Saturday, cloudy skies and cold temperatures made chiseling out of the ice no easy task. The ice was thick and with temperatures staying mostly in the lower to middle 20s not much melting occurred. Farther south, clouds hung tough to make it a raw and gloomy day. Clouds will remain entrenched overnight preventing much of a drop in temperatures, which will set up for a warmer Sunday. However, do not let the warmth fool because the storm that has been battering parts of the west will race towards the region setting up for a potentially long night Sunday night into Monday morning for the central and southern Ohio Valley.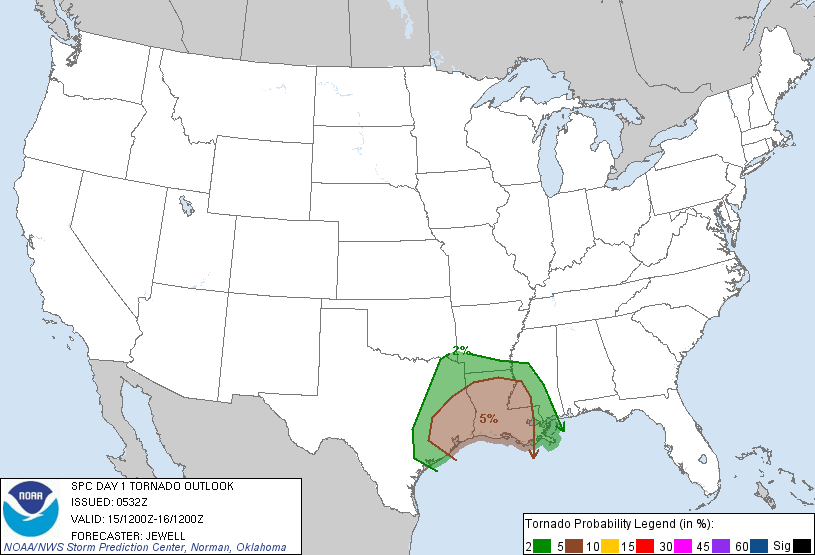 Tornado Risk For Sunday Afternoon into Monday Morning; Courtesy of The Storm Prediction Center
Southerly winds will increase on Sunday bringing in a combination of warmth and moisture. A warm front will develop and move up into the region by late Sunday evening setting the stage for some intense thunderstorms. Temperatures south of the front could approach the lower 60s while the northern Ohio Valley remains in the lower to middle 40s. That temperature gradient fueled by the influx of moisture combined with a negatively tilted trough will lead to explosive convection by late afternoon over parts of Arkansas and Missouri and spread into southern Illinois, western Kentucky and Tennessee, and southern Indiana during the late evening hours. Northern Louisiana, Mississippi, and Alabama will get on the action as the evening progresses as well. These thunderstorms will continue to push east across the lower Ohio Valley and make it into southwest Ohio during the overnight.
Latest data suggests that the initial thunderstorms will take on a super cellular look, before evolving into a Quasi-Linear Convective System as the evening progresses. Potential exists for thunderstorms to explode and rapidly become severe over Arkansas and Missouri. Damaging winds will carry the greatest threat of significant widespread wind damage, but tornadoes are also expected. The possibility of a couple substantial tornadoes cannot be ruled out in the individual super cell storms before forming the QLCS squall line. Once the transition into the squall line the threat of a significant tornadoes will lessen but this increases the probability of several short-lived "spinners" on the edges of the QLCS's. One only needs to go back to last Tuesday morning to see the quick rash of tornadoes that raked southern Indiana and northern and central Kentucky.
Please do not be caught off guard tomorrow night into early Monday morning. Most people do not believe that an ice or snow storm just 36 to 48 hours prior could produce severe weather potential like this, but it can. It has happened in the past and it will happen in the future. If you live anywhere from Saint Louis to Cincinnati or Indianapolis to Indianola, Mississippi be aware tomorrow night. Strong advisement is to turn your NOAA weather radio alarm on Sunday night when heading to bed so that if severe weather enters your area, you can awake and get to safety prior to the storm impacting your specific locale. Outside of NOAA follow local media outlets for continuous updates. Stay ALERT and SAFE Sunday night.
For instant updates check me out at twitter @ http://twitter.com/OhioValleyWx or on facebook @ http://www.facebook.com/OVWeather
By Weather Specialist Josh Ketchen