Snow and Wind Arrive Early Thursday Afternoon
Another rainy Wednesday has greeted many across the region. With above normal temperatures, it must mean that no snow will be coming yet again. This is where people would be wrong. An Arctic front is plowing across the Midwest and will cut through the Ohio Valley on Thursday. By early Thursday morning this front will be over Indiana and slice through the state of Ohio from late morning through mid afternoon. By this time tomorrow, places in the lower 40s to near 50 will be 15 to 20 degrees colder. Add in that stiff northwest winds will begin to increase, wind chills will fall into the single digits to lower teens around sunset Thursday evening.
Currently, a southern storm and its associated low pressure is trekking through the commonwealth of Kentucky. With it east and southeast winds are aiding in pulling up Gulf of Mexico moisture leading to the rain showers. The low then will crawl up across the Buckeye State waiting for the Arctic front to approach the region. As the low and front combine, the surface low will deepen across northern Ohio and southern Michigan bringing with it the brisk winds along with residual rain showers changing to snow. At the mid levels, deepening will be ongoing helping squeeze out any moisture leading to widespread snow for the region late Thursday afternoon through midday Friday.

Deepening 500 MB Upper Low Will Lead to Widespread Snows; Courtesy of NCEP
One of the most important aspects of any snow event comes down to accumulation totals. Right now it appears 1-3″ of snow will be common across west-central and southwest Ohio, eastern and southeast Indiana with up to 1.5″ in northern Kentucky. Across northern Indiana and northwest Ohio several inches of snow could be realized. On strong northwest winds and relatively warm Lake of Michigan waters enhanced snowfall is a distinct possibility. Exact amounts cannot be given because with snow bands one area can get 2 to 3 inches of snow in a brief period of time where others get little to none. However, it is a good likelihood that certain areas could see 6+" of snow if conditions are met tomorrow night through the midday hours on Friday. Farther south a few isolated spots of greater than 3 inches are possible but pin pointing those locations cannot be answered.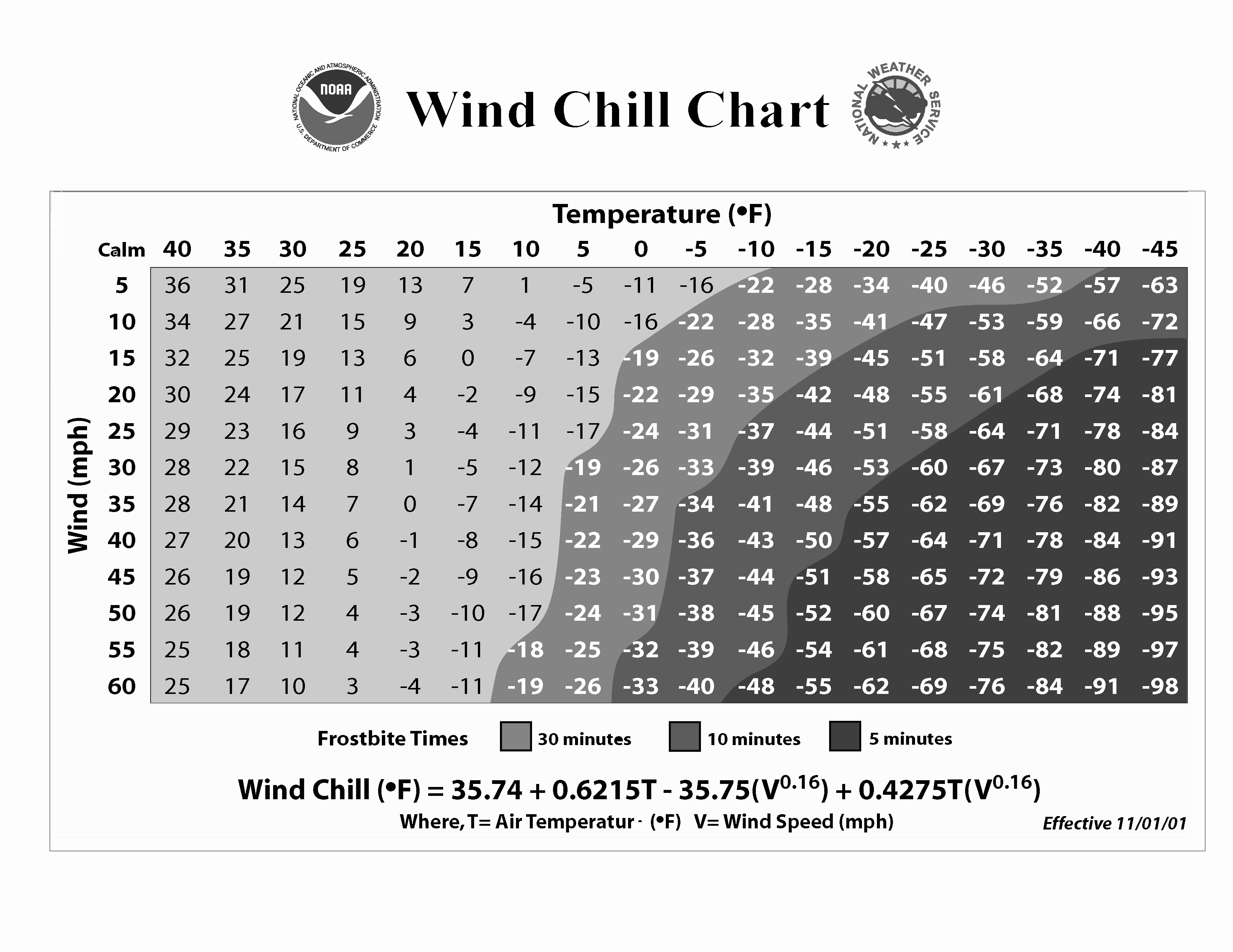 Wild Chill Index Chart; Courtesy of NOAA
With cold air lacking for most of this winter season, a good review of wind chill preparations should be advised. By mid afternoon most areas will see temperatures falling into the 20s with northwest winds between 15 and 20 miles per hour. This will create wind chill reading in the upper single digits to middle teens. As the sun goes down and temperatures fall into the middle teens with the same northwest winds increasing to 20 to potentially 30 miles per hour at times, wind chill reading will fall below zero. If one must venture out tomorrow, wear several layers of clothing as opposed to one heavy layer. Wearing several layers helps trap heat close to your body. Always wear a hat. The greatest loss of heat is through one's head. To some this is common knowledge, but you will be surprised how many do not follow these procedures. Frostbite will not be of immediate concern but if one is outside for an extended period of time it is imperative that you dress appropriately to ward off the Arctic air.
For the rest of Friday expect on and off snow showers that could add up to an additional inch by Friday evening. Temperatures for Friday should hold in the upper teens to mid twenties before falling back into the lower teens Friday night. Winds will begin to slacken off a bit on Friday night but very cold conditions will still be prevalent.
By late Saturday an Arctic Clipper will be racing out of the upper Midwest into the Ohio Valley region with a renewed shot of light snow and a fresh batch of Arctic air. Exact timing and amounts will be addressed as the time period gets closer. For now though, get ready for a cold blast tomorrow afternoon because this will likely shock the system if you are not prepared. Stay safe.
For instant updates check me out at twitter @ http://twitter.com/OhioValleyWx or on facebook @ http://www.facebook.com/OVWeather
By Weather Specialist Josh Ketchen