New Year Comes, New Pattern To Settle In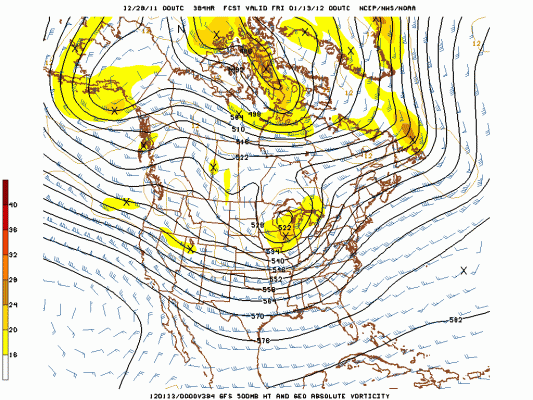 Trough East Set to Change Predominant Mild Pattern; Courtesy of NCEP
A good majority of folks in the Ohio Valley have probably been wondering where winter has been this season. We hear stories of winter is not going to happen, it is going to stay warm, blame the La Nina, blame the Arctic Oscillation (AO), blame the North Atlantic Oscillation (NAO), or (gasp) blame Global Warming. Then we also hear stories of winter will come, winter is around the corner, the AO will trend down towards the negative, the NAO will fall to neutral, and (gasp) Global Warming will create a cooling effect. Simplifying it into a one sentence statement; I believed cold air was coming and would get here and now with strong confidence I can say it will do exactly that.
To recap the late Monday into Tuesday storm, rain overspread the area late Monday night into Tuesday morning. Some places experienced a brief snow or sleet shower before the low drew in slightly warmer air for the mid morning through early afternoon hours in southeast Indiana and southwest Ohio while places in central Indiana experienced a few inches of snow. With the placement of the low across the Buckeye State, southwest Ohio and southeast Indiana laid in the dreaded "dry slot" and really put a dent in any period of solid snow. In Dayton the airport picked up 0.6″ of snow, but with temperatures hold right at freezing or just above, no accumulation was seen. Fortunately, I did not expect much; however, I did think a little more snow would have fallen. Despite the slight disappointment, a significant change is on the way.
A chilly Wednesday is in store for the area. Highs will range between the low 30s in northern reaches to near 40 in the south under partly cloudy skies. On Thursday a weak disturbance will pass across the Great Lakes switching winds to the south aiding in warmer temperatures. Places across southern Indiana could reach the lower 50s with sunshine while places in the north will experience cloudy skies and possible sprinkles or flurries as temperatures hold in the upper 30s. Come Friday a bit of a stronger disturbance will rotate through leading to a threat of rain and snow showers for northern and central sections; however, southern sections will remain relatively dry despite increasing clouds. Temperatures once again will vary based on location. Upper 30s in the north, to lower to perhaps middle 50s in the southwest. Things begin to change after that.
Saturday, New Year's Eve, will be a nice day for the region. Seasonably above normal highs in the lower to upper 40s will be common with a mix of clouds and sun. By late Saturday night a strong cold front will begin to bear down on the region. As usually is the case in advance of strong cold front, southerly winds will increase along with building clouds. The exact timing will have to be ironed out as Sunday approaches but scattered rain showers will be possible. Once the front moves through winds will veer to the west and northwest ushering in colder air and a few snow showers to end the first day of 2012. In its wake, the first week of the New Year will feature the first sustained shot of Arctic air for the region, along with the first chance of sustained threats of snow.
A pattern that has featured a trough in the southwestern United States will start to feature a trough in the eastern United States allowing for winter to stick around. More on this later but for lovers of warm, enjoy the next 5 days because winter will take over after that to kick off January, 2012.
For instant updates check me out at twitter @ http://twitter.com/OhioValleyWx or on facebook @ http://www.facebook.com/OVWeather