Cloudy, Cool, and Wet Turns Sunny and Cool Then Mild
The stagnant weather pattern that most of the region has been in since the beginning of last week is about to pull a 180 degree turn in the next couple of days. With constant threats of rain and cool temperatures expect sunshine and mild conditions starting next week. The slow, broad cut off low that has been beaten into the ground the last week will slide to the east and a mid level ridge will take control. So if you can hold on for 2 more days, changes are indeed coming. Expect rain showers to come in waves tonight through Friday afternoon keeping the cloudy, cool, and wet look but by early Saturday in the west and by mid afternoon in the east. sunshine will make its appearance and it will stick around for a while.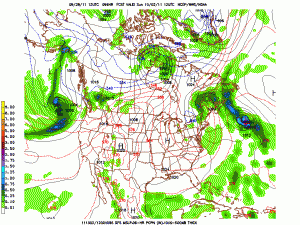 High Pressure Will Settle into the Region Leading to Sunshine; Courtesy of NCEP
High pressure that is currently over the west will slide east into the Midwest and Ohio Valley by the weekend. What comes first will be a couple of very chilly days and frosty nights but as the high slides off to the east, mild air will flood into the region and next week looks fantastic for those wanting mild temperatures, sunshine, and dry weather. Temperatures on Thursday will surge ahead of a cold front poised to cross the region early Friday. Expect highs in the middle 60s to middle 70s tomorrow but as the cold front and associated trough moves through highs on Friday will struggle to rise above 60 degrees. To add to the misery will be a fairly strong westerly breeze so a real bite to the air will be felt across the region so if you have outdoor activities on Friday be prepared for quite a sting. Wind chill values, yes I have to say it, could be in the upper 30s to middle 40s during the evening hours with air temperatures falling from the 50s into the upper 40s. Winds will slacken off towards Friday night but so will the temperatures. Most places when you wake up Saturday morning will have fallen into the middle to upper 30s. That was the bad news, now here comes the good news.

Sunshine will greet the region Saturday. Highs on Saturday are only expected to reach the low to middle 50s but with abundant sunshine temperatures will not feel that bad; however, with dry air in place temperatures will plummet Saturday evening. Much like Friday night if you have outdoor activities coats and even mittens and gloves might be donned during the evening because temperatures by late evening are expected to be in the upper 30s to low 40s. Many people will not be adjusted to these types of temperatures so it will feel even colder than it really is. By Sunday morning many places will be down in the lower to middle 30s with calm winds which will lead to widespread frost. As stated earlier this week, if you have tender vegetation bringing them inside or covering them up is strongly advised. For Sunday afternoon, sunshine will dominate with temperatures in the upper 50s to low 60s region wide. So despite a cool weekend, sunshine will prevail.
It gets better as the school and work week begins. A cool start on Monday will be off set by warmer temperatures in the afternoon with warming continuing through all of next week. Highs start of the week in the middle 60s to around 70 then proceed to warm to the middle and upper 70s by the end of next week with no rain expected until very late next week or the following weekend. With that time period being 10 days away subtle shifts can change but next week will be completely different than this week. The trend is expected to continue into the following week, with decent amounts of sunshine and seasonably warm temperatures.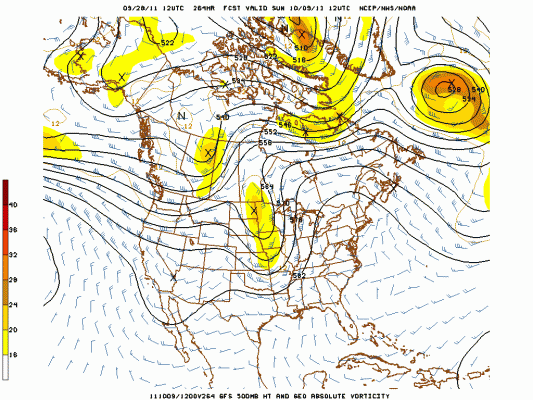 Strong Meridional Flow Often Can Trigger Severe Weather Across the Country; Courtesy NCEP
A point that needs to be addressed is the potential tendency of starting the second severe weather season. This usually occurs after a prolonged cool and raw period of time and that is exactly what this region has had. With general ridging overhead and intrusions of cold air sliding through the region with active cold fronts, severe weather will be on the rise. While it is too early to pin down specific dates and systems, begin to keep an eye on features. I do not like to over hype or overplay weather because there is enough of that going on nowadays but with a La Nina signal once again taking hold, the drought and heat to the southwest, and the cold air building south from Canada the scenario is increasing that some of the storm systems starting late next week into October could be quite active so stay tuned for later updates when the situation warrants.
For instant updates check me out at twitter @ http://twitter.com/OhioValleyWx or on facebook @ http://www.facebook.com/OVWeather
By Weather Specialist Josh Ketchen