Dramatic Storms Take Toll on Southeast and Myself
Tuscaloosa, Alabama; Courtesy of Dusty Compton, AP
3 days since the historic outbreak where over 320 people lost their lives a loss for words are still present. Thousands of pictures, videos, and news reports still do not do what happened across Alabama, Mississippi, Georgia, Tennessee, and Virginia, so much so that I became ill Wednesday night. I was so intense and so drawn to the situation I believe I succumbed to the scene and suffered terrible headaches and an upset stomach. Part and parcel for a passionate weatherman. Today is the first day in over three days where I have the strength to write.

Smithville, Mississippi; Courtesy of WTVA.com, Steve Scroul (Top) and Drew Powell (Bottom)
This article is going to explain why tornado outbreaks are much more intense in a second year, slowly retreating La Nina with a trending cold Pacific Decadal Oscillation (PDO).
Jet Stream During El Nino and La Nina Years: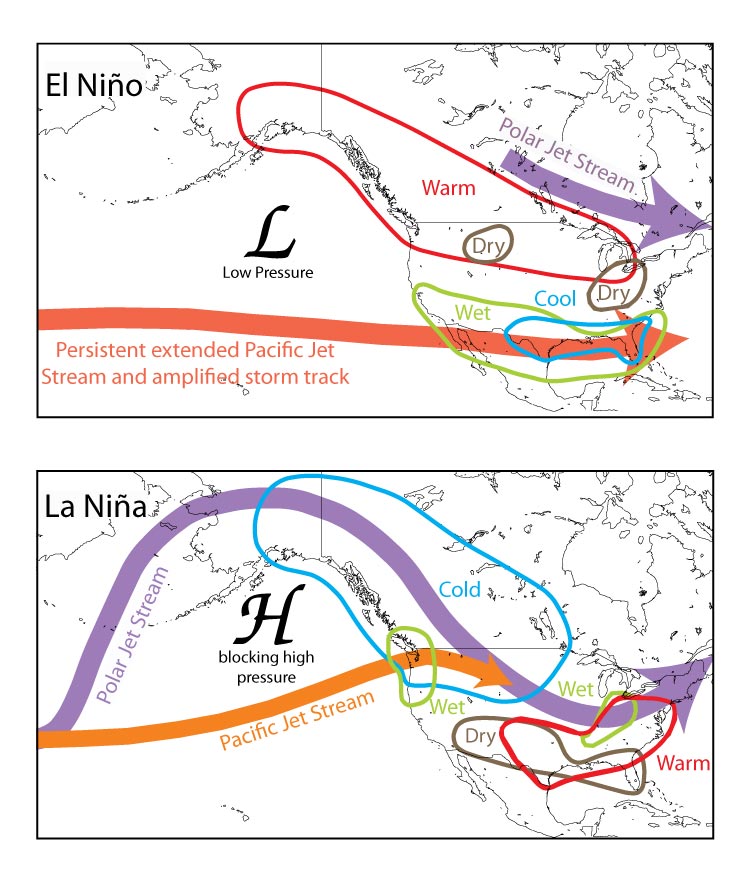 Courtesy of the University of Arizona
Wednesday, April 27, 2011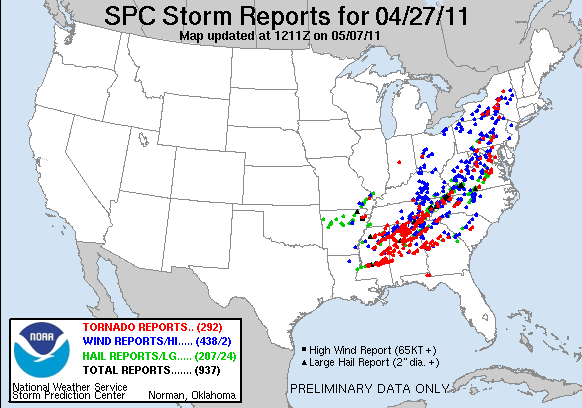 Courtesy Storm Prediction Center
When a La Nina is present tendencies prevail for an amplified Polar jet to swing very deep, vigorous troughs with very cold air farther south than usual. At the same time a relatively weak Pacific jet remains zonal across the United States which does two things. First, it allows the Gulf of Mexico to be relatively tranquil over the winter keeping the water undisturbed and warmer than normal. Second, by the Pacific jet remaining weak, it allows the northern jet to take control of the flow across the eastern United States allowing readily available cold air to wrap up into intensifying storm systems. When you combine the growing spring warmth to the south and the unusually strong depth of cold air rushing from the north, a violent situation results. A few years to reference is April 3, 1974 and May 2008. Until this week the most disastrous tornado outbreak occurred on "Black Wednesday" April 3, 1974 where 148 tornadoes killed 315 people across several states, a second year La Nina. Fast forward to 2008, the month of May was insane with over 450 tornado reports. That year was also a second year La Nina. Then we come to 2010 where two massive severe weather outbreaks have occurred likely producing over 400 tornadoes and over 400 deaths. The common theme, a second year La Nina.
The disappointing news is that this pattern does not appear likely to change so as we head into May the same conditions for violent weather will be present. As the jet begins to inch northward the threat for severe weather will creep north as well. The Midwest, Ohio Valley, and southern Great Lakes region should become more involved with damaging to potentially serious weather.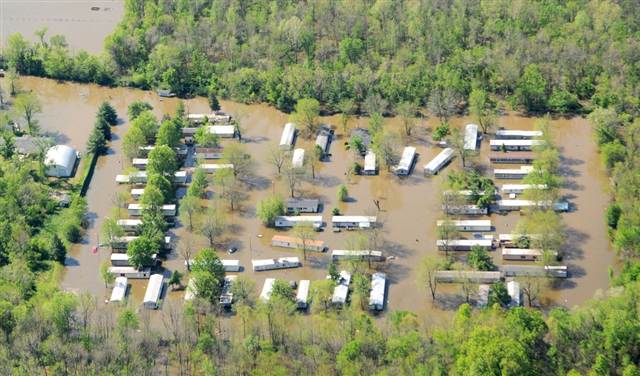 Courtesy of Paul Newton, The Southern Illinoisan
On a side note, flooding has also been a major issue. With the strength of the Polar jet and the tame Pacific flow, storm systems slow as they push east across the country. Cyclogenesis gets started over the Midwest or central Plains when the warm and cold air masses collide. This collision often results in strengthening and slowing storms and as they intensify abundant moisture is drawn in causing relentless wet patterns across the upper Tennessee and Ohio Valleys back into the Mississippi River Valley. As we saw in April several river towns in Ohio, Indiana, Illinois, Kentucky, Missouri, Tennessee, and Arkansas have experienced severe flooding. Change to this pattern does not look to be ending any time soon, either. Keep it here at myweathertech.com for all the latest
Weather Specialist
Josh Ketchen