Courtesy The Storm Prediction Center
The stalled out front that has been plaguing the Ohio Valley over the last several days is getting a kick from deepening low pressure over Oklahoma tonight. As this low moves northeast into the Ohio Valley on Wednesday, heavy rain, strong winds, and some severe storms will hit the region. A threat for a few tornadoes are possible but the factors for that come together as the storms develop. Ingredients are there for such an event but in the Ohio Valley everything has to go just right for that to occur.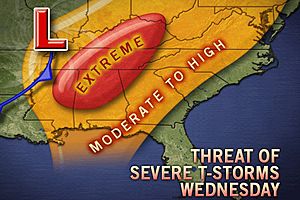 Courtesy Accuweather.com
Tonight strong warm air advection is moving up from the south leading to a humid and very muggy night. Scattered showers and thunderstorms, possibly severe, will be around for the overnight hours. The key for tomorrow and the intensity of the severe weather will be if clouds can break for a while allowing some sunshine. If that occurs the threat for tornadoes go up; however if clouds stick around, severe winds will still be likely. Heavy rain totals will also be found for the region in the order of 2 to 3 inches. With the already saturated ground any excess rain will cause flooding in poor drainage areas and locations near creeks, streams, and rivers. Be prepared to take action if you live near those areas if flash flooding is being witnessed.
By the midday hours of Thursday the cold front and associated low pressure will have pushed east of the region bringing in drier air for Friday into Saturday. The problem is it will take most of Thursday to finally dry the entire atmosphere out enough to turn off the rain. Thursday night clouds will begin to break and lead to a dry Friday and Saturday. However, this is not an end to the long wave pattern that will keep shower and storm threats here on a routine basis so more rain is expected by late Saturday night.
Temperatures for tomorrow should shoot up quickly into the 70s on strong southerly winds but as the cold front passes through 50s can be expected for Thursday. With the sun out on Friday and Saturday combined with the late April sun highs will rebound into the 60s for both days and might even crack 70 on Saturday with enough sunshine. Lows will stay up for tonight and Wednesday night with clouds and showers but will drop into the upper 30s by Friday morning.
Strong caution is advised from Myweathertech on being aware of conditions tomorrow due to the potential nature of the storms. Listen to NOAA weather radio, media outlets, and other weather information sources to be up-to-date as possible. Also if you are away and need quick, instant weather follow me at www.twitter.com/OhioValleyWx for updates to keep you safe and informed.
As always keep it here at www.myweathertech.com for further updates.
By Weather Specialist Josh Ketchen