Warm Surge for the Holiday Weekend

Weekend View; Courtesy of Accuweather
In a pattern that has been relentless in many parts of the country, a window of warm will welcome in the Memorial Day Weekend for the Ohio Valley. After Wednesday night's severe thunderstorm event, that produced up to 13 tornadoes in Indiana, the next few days should be pretty uneventful. With the pattern we are in, I cannot say that any day will be 100% dry but nearly everyone will be free from rain this weekend.
Late Saturday Evening into Sunday Morning: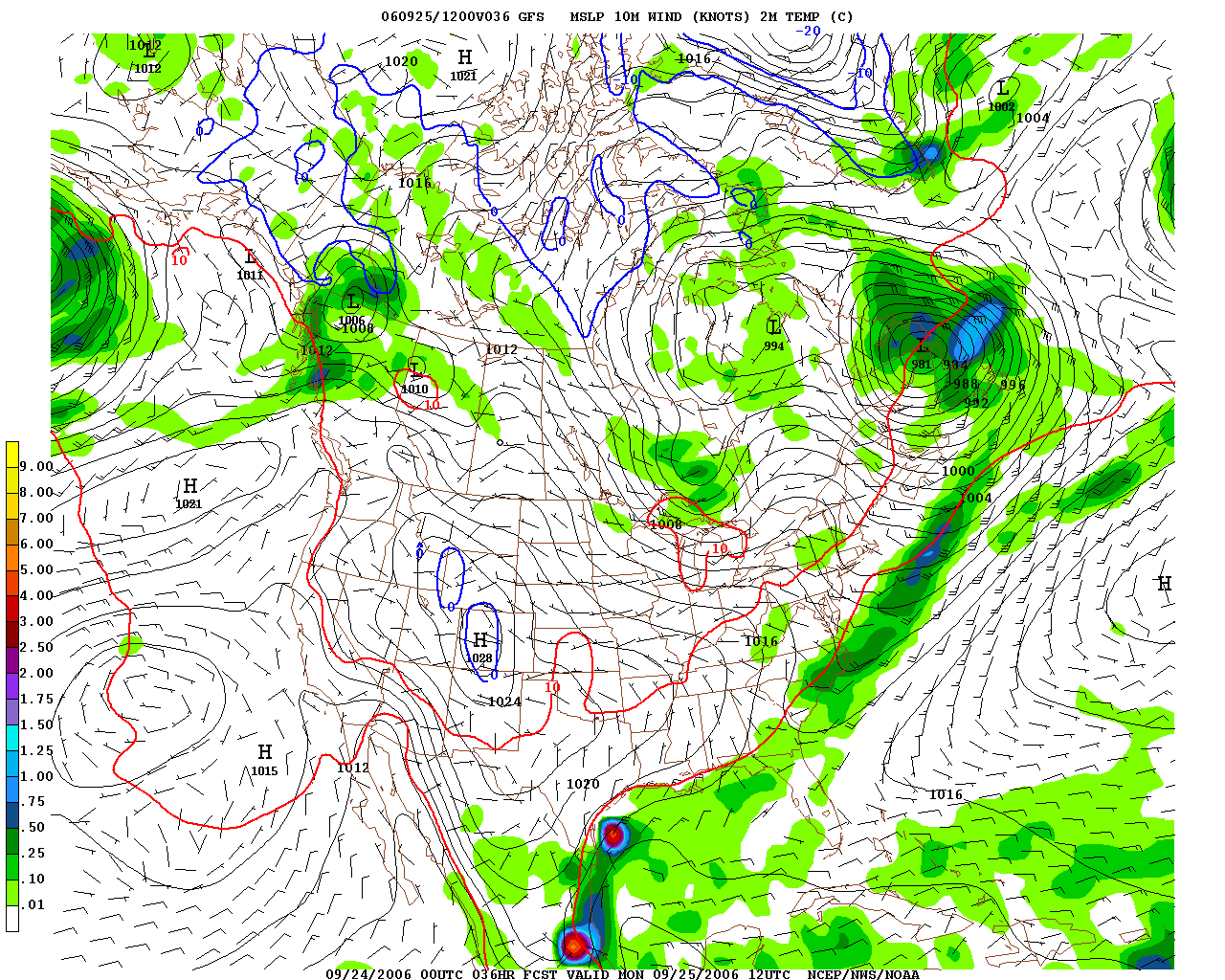 Isolated Storm at best; Courtesy of NCEP
Clouds that plagued the area for a majority of Friday began to thin out as the evening set in. Temperatures tonight will be quite comfortable in the mid to upper 50s but watch out for some early morning fog as Saturday morning begins. Once the fog lifts, partly sunny skies will allow temperatures to jump to the middle 70s to low 80s. As mentioned, a small storm chance is possible primarily to the north during the evening into the overnight hours. With any thunderstorm, dangerous lightning, heavy rain, and small hail is possible. If you happen to be that unlucky spot, be prepared to take cover until the storm has passed. Saturday night's lows will hover in the low 60s.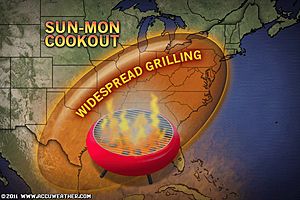 Courtesy of Accuweather
Sunday

Isolated Storm Far North and Upper 80s; Courtesy of NCEP
Moving toward Sunday, very warm air will overspread much of the region. With south winds and sunshine temps will soar into the middle to upper 80s. Humidity will be modest but with all the rain the region has seen over the last three months, if you are outside for any length of time you will begin to feel it. Air conditioners should get a work out as most are not ready for such a jump in temperatures. Temperatures that hovered for many areas in the upper 50s to middle 60s the last two days will catch many people by surprise with some locales flirting with 90 degrees just 48 hours later.
Monday


Mostly Sunny and Upper 80s; Courtesy of NCEP
With the extended weekend, Monday will be another day where you can get outside and enjoy the holiday but it will continue to be very warm. Temperatures will start out in the mid to upper 60s so with sunshine and light south breezes temperatures will quickly rise into the upper 80s to near 90 that afternoon, so for most of the region, the break in the weather comes at the best possible time being an extended holiday weekend with rain threats very minimal.
Right now Saturday's rain chances should be Dayton north, along with Sunday and Monday but the threat is there for a shower to storm to hit anyone. This is also a good time to review warm temperature procedures. With the weather, for the most part being chilly and wet most of this spring, the majority of people are not ready for this surge of temperatures and humidity. If you are going to be out for an extended period of time make sure you drink plenty of fluids, not alcohol or soda, as that robs your body of moisture to stay cool. Wear light weight and light colored clothing and a hat, to keep the sun from absorbing throughout your body. As the summer wears on this will be common place and this reminder will not be needed; however, this being the first really warm weekend of the season it is always good to review ways to stay cool and hydrated. Also, make sure your pets are properly cooled and drink a lot of water, too, as they are not adapted to the very warm weather, either.
Early Wednesday through Early Thursday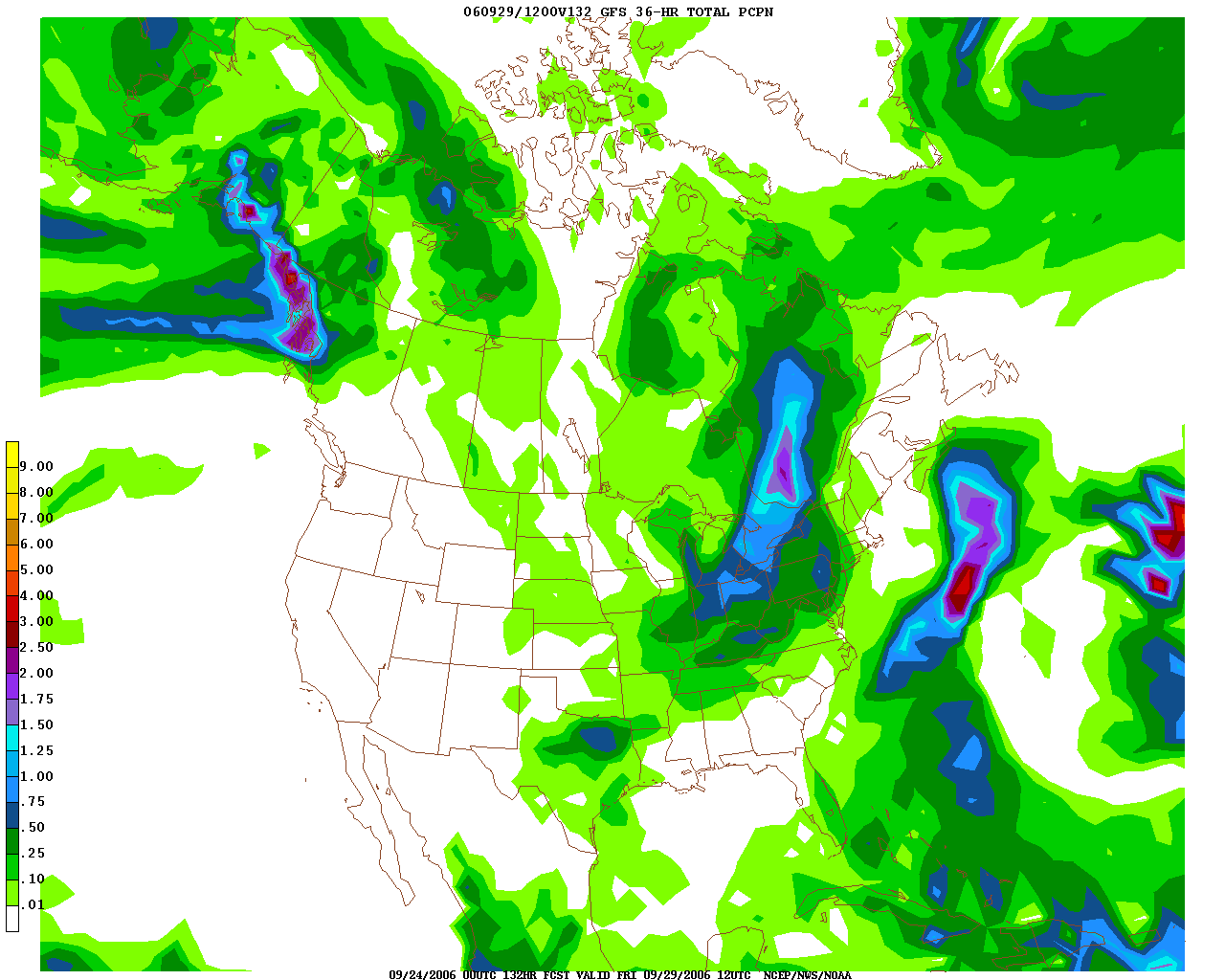 Scattered Showers/Storms Wednesday; Courtesy of NCEP
Taking a peak into the future, this warm surge should be brief. By Wednesday a cold front will slide through the region and temperatures and humidity will back down.
Saturday and Sunday Precipitation


Scattered Storms Next Weekend; Courtesy of NCEP
By the end of next week, shower and thunderstorm activity should once again be a possibility bringing back a pattern that this region has seen since March. Ironically, this might be one of the warmer weekends of the summer because the summer should be cooler than average but humidity will be very high.
By Weather Specialist Josh Ketchen
Keep it here at www.myweathertech.com for further updates.
Short URL: http://www.myweathertech.com/?p=1640
Posted by
Josh Ketchen
on May 29 2011. Filed under
WEATHER
. You can follow any responses to this entry through the
RSS 2.0
. You can leave a response or trackback to this entry