Strong Heat Burst Felt Across Wichita Metro and Surrounding Areas Explained
An unusual heat burst occurred shortly after midnight on June 9, 2011, across the Wichita area. The temperature jumped some 15 to 20 degrees in a matter of 15 to 20 minutes, rising from the low to mid 80s to around 102 degrees. The sudden rise in the thermometer was accompanied by a downburst of winds that gusted to near 60 mph in some locations.
The heat burst was first noted on the west side of the city around 12:30 am. The temperature rose from 85 degrees at 12:22 am at the Mid-Continent airport to 102 degrees at 12:42 am. Winds gusted to around 45 mph. Several other observations across the west side showed a temperature jump into the mid to upper 90s. The heat burst shifted to the east side of the city after 1 am. A similar jump in the temperature was noted at both Jabara airport and McConnell Air Force Base rising to near 100 degrees shortly after 1 am this morning. The hot burst of air was also very dry…with dew point temperatures dropping from the 60s into the 20s and 30s.
The burst of hot air in the middle of the night was likely the result of showers and storms which dissipated about 30 to 60 minutes prior to the heat burst being felt. The rainfall evaporated as high level air descended from the dying storms. This air compressed and warmed significantly as it descended…resulting in a hot blast of air at the ground. Environmental conditions with the presence of dry air aloft have to be just right to produce the rare occurrence of a heat burst.
Reflectivity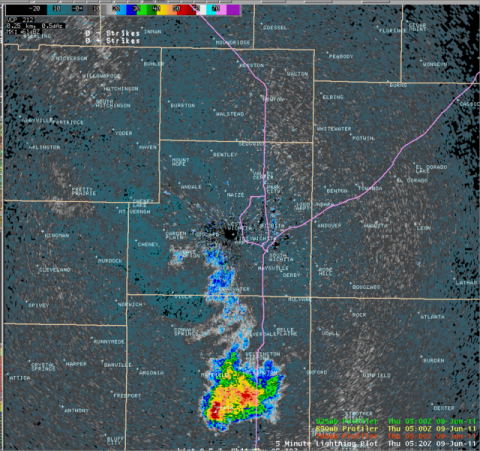 Reflectivity radar image shows only showers around West Wichita in the early morning hours of June 9th. However these dissipating showers are a result of the sudden heat burst.
Velocity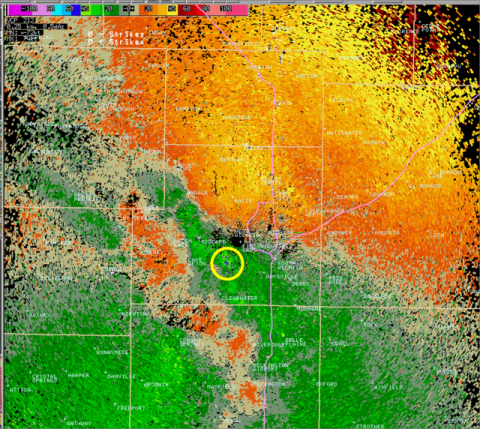 Velocity radar image shows a very small area of strong winds, approximately 50 kts or 58 mph.  These winds as highlighted in the circle resulted in the heat burst across the area.
Area observations as of 1:00 am show that most of West Wichita is in the upper 90 as Wichita Mid-Continent Airport reached 101 degrees Fahrenheit.

As of 1:15 am, most of central Wichita is in the upper 90s to lower 100s as McConnell Air Force Base displays 99 degrees Fahrenheit and the Eastborough neighborhood reached 101 degrees Fahrenheit.


An hour later, after the heat burst began in West Wichita, the eastern portion of the area reached the upper 90s to low 100s as Jabara Airport displays 102 degrees Fahrenheit.

Wichita Mid-Continent Airport (KICT)
11:53 PM
84 F
12:53 AM
100 F
1:53 AM
81 F
2:53 AM
79 F
Highest Temperature Recorded
102 F at 12:42 am


Jabara Airport (KAAO)
11:53 PM
82 F
12:53 AM
82 F
1:53 AM
90 F
2:53 AM
81 F
Highest Temperature Recorded
102 F at 1:18 am

McConnell Air Force Base (KIAB)
11:53 PM
82 F
12:53 AM
84 F
1:53 AM
86 F
2:53 AM
81 F
Highest Temperature Recorded
100 F at 1:12 am

---
Wichita Mid-Continent Airport Observations in Graphical Format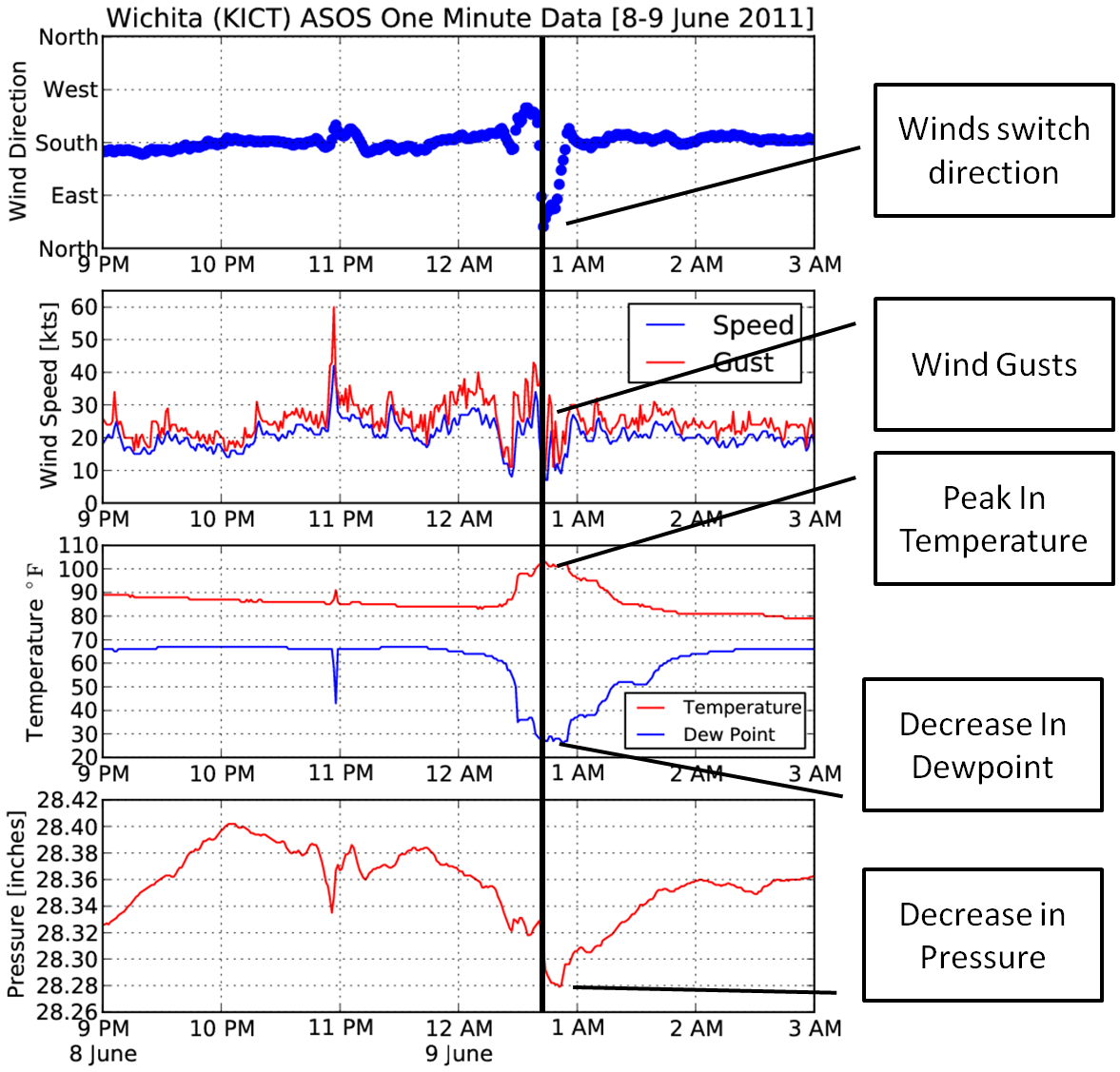 Short URL: http://www.myweathertech.com/?p=1816